Hybrid Vinyl Flooring Delivers Superior Performance

Hybrid vinyl flooring combines the best attributes of laminate and vinyl to give you exceptional performance for commercial flooring. It features multiple layers, including a commercial grade layer, design layer, waterproof core, and cork backing. Those layers provide maximum protection and enhanced durability.

Hybrid vinyl flooring offers incredible performance in commercial settings. Its 100 percent waterproof. Plus, hybrid floors resist stains and fading. Their rigid core coupled with a top coating also resist dents, scratches, and fading from UV exposure. So, if you're concerned about foot traffic, hybrid vinyl flooring stands up to the challenge.

The collection offers a selection of popular colors in two designs. Composed hybrid vinyl flooring feature more noticeable large chips while Distinct hybrid floors feature smaller color specks. Both commercial vinyl options feature superior performance and gouge resistance thanks to our through pattern/color layer and our innovative coating technology – which results in a beautiful, long-lasting floor.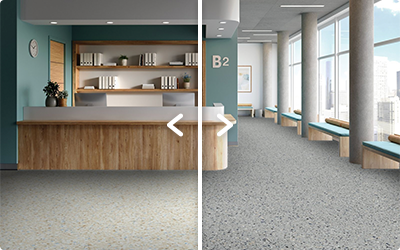 View Composed & Distinct™ Hybrid Vinyl Flooring in Your Space
Not sure which colors and designs are best for your project, then try our Professional Spaces Visualizer. Just upload a photo from your phone or select from a range of different interiors to see any color or design. It's that easy to see how our hybrid vinyl flooring looks in your space.
Visualize It!
All

Inlaid Heterogeneous Sheet Products