Commercial Vinyl Flooring Built to Last
If you're looking for a natural look for your commercial flooring, check out Concepts of Nature(TM) featuring wood and stone visuals. The wear layer of the heterogeneous sheet vinyl uses a commercial grade finish, resulting in a floor that is beautiful and built to last.

Unlike homogenous sheet vinyl, heterogenous vinyl flooring features a multi-layered structure with a print layer. That print layer allows for a broad color palette while also presenting wood and stone grain looks to the commercial vinyl flooring.

Heterogenous sheet vinyl offers improved sound absorption owing to the multiple layers of PVC.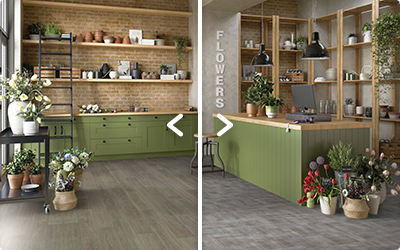 Use Our Floor Visualizer to See Commercial Vinyl Flooring in Your Space
Choosing commercial vinyl flooring can be dauting. We've simplified the task, though, with our Professional Spaces Visualizer. Now, you can see commercial LVT, SPC rigid core, homogenous sheet vinyl, and heterogenous sheet vinyl flooring in your space before you buy it. Just upload a photo from your phone or select from a range of different interiors to see any color or design. It's that easy.
Visualize It! Checking Availability
We're Sorry
Samples are currently out of stock for
Please check with your local retailer for sample availability in-store
We're Sorry
There was an error adding the sample to your cart.
Please check with your local retailer for sample availability in-store